The estate of Errol Flynn releases the news to the medfia of the death of Patricia Wymore Flynn in Portland, Jamaica, on Saturday, March 22: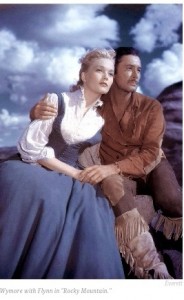 Patrice Wymore Flynn, an actress during Hollywood's Golden Age and the widow of screen legend Errol Flynn, died Saturday at her home in Portland, Jamaica. According to Robb Callahan a family spokesman she had been battling with pulmonary disease for the last year. She was 87.
The tall and elegant Mrs. Flynn began her career in musicals performing in Up in Central Park in 1947; She made her Broadway debut a year later in the musical Hold It! and won the Theatre World Award for "promising actress." Following her performance in another musical, All for Love (1949), the Kansas born set-eyed beauty was handed a starlet contract by Warner Bros. and headed west to seek her fame and fortune. She found a little bit of both. She received notice for her first screen role, as the young upstart to Doris Day's established Broadway star in the film musical Tea for Two. She continued to make films in the early 1950s, co-starring with such screen greats as Kirk Douglas, Ronald Reagan, Randolph Scott and Danny Thomas. But it was her second role, as the female lead in the 1950 western Rocky Mountain that would have the most lasting effect on Miss Wymore's life; it was during principal photography for the film that she met her future husband, the aging screen legend Errol Flynn, the film's male lead.
In his autobiography My Wicked, Wicked Ways, Flynn describes Wymore when they met as "attractive, warm, and wholesome…she could sing, she was reserved, she had beauty and dignity. [She] typified everything I long for…everything I am not."
Though Flynn was engaged at the time, the co-stars soon became a couple and were married in late 1950 at Monaco Town Hall in Nice, France—an event about which Mr. Flynn later stated, "it was wonderful to have a legitimate wedding for a change." (The marriage was his third and her first.)
Like Mr. Flynn himself, Hollywood films were then in the middle of a long transition from glamour to grit, but the first few years of the couple's marriage were still illuminated by the fading lights of that passing era, when they would attend parties thrown by Marion Davies and film premieres in Beverly Hills. They had a daughter, Arnella Flynn, in 1953; within two years, Mrs. Flynn had stopped acting altogether to raise their child and care for Mr. Flynn, whose career had stalled and whose health was in serious decline. "Nobody ever tried harder than Pat to make me happy," Flynn would later note in My Wicked, Wicked Ways.
After her husband's death in 1959, Mrs. Flynn returned to acting, landing the role she is best known for today as Frank Sinatra's girlfriend Adele Elkstrom in the original 1960 film version of Ocean's Eleven. Music buffs probably also recognize her as the imperious magazine editor Madame Quagmeyer from 1960s television show The Monkees. In 1970 however, she retired from acting for good and moved to Flynn's massive estate in Jamaica. Though the property's coconut farm was eventually destroyed by disease, Mrs. Flynn was able to turn it into an active and successful cattle ranch, and it remains so today.
Mrs. Flynn never remarried. She is survived by her grandson Luke Flynn, an actor and model and the only child of Patrice and Errol's deceased daughter Arnella.
– Special thanks to Robb Callahan, at the Errol Flynn Estate
— David DeWitt