September 27, 1938
Evening Herald Express
ERROL FLYNN TAKEN TO HOSPITAL IN SERIOUS ILLNESS
Still seriously ill, Errol Flynn, motion picture actor,  rallied sufficiently today to permit his being transferred from his Beverly Hills home to the Good Samaritan Hospital.
The change was made under the direction of his physician, Dr. T. M. Hearn. Dr. Hearn said the actor needed care and attention more readily available at the hospital.
Flynn is suffering from influenza, complicated by an infection of the throat and respiratory organs and a recurrence of malarial fever, which he contracted five years ago in New Guinea.
Studio reports attributed Flynn's illness to the fact that he refused to use a double in flying scenes in the picture Dawn Patrol on which he was working.
…
September 28, 1938
Evening Herald Express
CRISIS IN ILLNESS OF ERROL FLYNN NEAR
An uncomfortable night, and a crisis expected within 24 hours.
This was the report today on Errol Flynn, film actor, who was confined to Good Samaritan Hospital with influenza and a streptococci infection of the throat.
Flynn was removed to the hospital on the orders of Dr. T. M. Hearn.
Dr. Doyle James, throat specialist, was called in consultation by Dr. Hearn, in an attempt to solve the mystery of the streptococci and the continued high fever which is now 102 degrees.
…
September 29, 1938
Hollywood Citizen News
Cary Grant is reading the script for the leading role of Dodge City now that Ronald Colman and Errol Flynn have been eliminated.
Sets for the film will be built on the Warners lot and shipped to a location near Brownsville, Tex.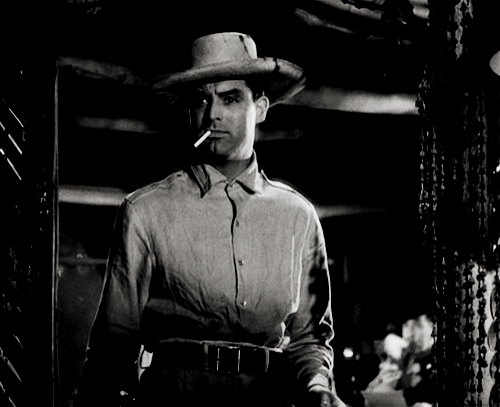 — Tim