The post will have several newspapers clipping and 2 pages of books.
The available evidence:
Danny Kaye's account states that Errol met and snubbed Monroe Aug 19 1950 at a party Danny organized for Olivier Laurence and Vivian Leigh. That was the first time that they were introduced.
Errol wasn't in LA on Aug 19 1950, he was in France.
Errol and Pat were at a party in LA on Aug 2 1950 with Danny Kaye present … but I found no evidence that Monroe was there.
The last big party Errol threw at Mulholland was  in feb 1949.
I also found no evidence that the ballet corps in the swimming pool was naked.
Supposedly the "bunny" race was at that party. (Hence, Feb 1949).
No evidence was found that Monroe was present or that such event even happened other than Hedy Lamar's autobiography. She sued her ghost writer for filling the book with lies. No other accounts of the bunny race were found.
Truman Capote's story was told only by Capote. A pathological liar, according to many observers. Errol couldn't play the piano.
The letter of Marilyn to Errol … Monroe experts said that they have no recollection of the two meeting and the handwriting isn't Monroe's. The fact that it was auctioned by Christie's means nothing. As of now that letter is considered a forgery.
So as of now I have zero evidence that Marilyn and Errol ever met …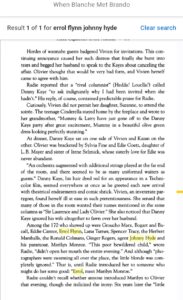 — Selene Hutchison-Zuffi