The original Hell Fire Club (Errol was a member of a watered down Hollywood homage, which he doubtless regretted, as he would have vastly preferred the original) has been the subject of books and films. Its first meeting took place in 1747, under the auspices of Sir Francis Dashwood, rake and dilettante, in the cellar of the George & Vulture Inn in London. The George & Vulture, which in the City, is still open as a restaurant. Shakespeare is said to have stayed there, and Dickens wrote parts of the Pickwick Papers while in situ.
The best screen 'portrayal' of the Hell Fire Club – which revives its 18th Century ethos – is in The Avengers episode, 'A Touch of Brimstone' (1966), starring Patrick Macnee and Diana Rigg as Steed and Mrs Peel.
The episode caused outrage when it was shown on television, including protests in Parliament, and was banned in America. It concerns a degenerate aristocrat, The Hon. John Cleverly Cartney, who revives the club, its period dress, its orgies and its anarchic spirit. He takes the anarchy a bit far however, when he tries to blow up three visiting heads of state.
Cartney is played by one of the most interesting actors of the period, who also appeared in 'The Innocents' (1961), with Deborah Kerr. His name was Peter Wyngarde and despite his on screen roles as a homme fatale, he was gay.
What made the episode so infamous, however, was the orgy scene, in which Diana Rigg is dressed in a leather S&M outfit, with boots and a dog collar, pictured below.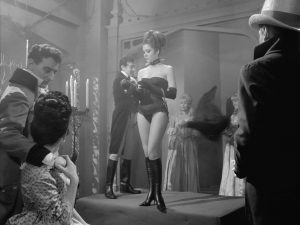 It is not all orgies. Patrick Macnee does some very fine fencing in order to foil, as it were, the dastardly plotters.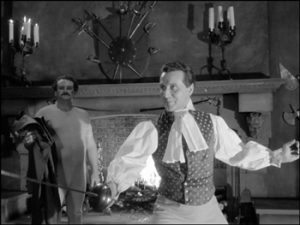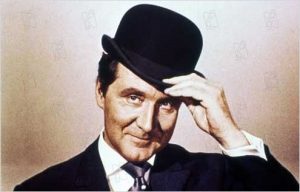 The incomparable Patrick, who would have made the second best James Bond after Errol, was a sort of cousin of mine, his maternal grandmother Frances being the granddaughter of the 12th Earl of Huntingdon. So back we go to Robin Hood!
Patrick worked with Christopher Lee, who was also a friend, and Lee, of course worked with Errol. Patrick never met Errol, but they had certain similarities, apart from being dashing, charming, erudite, gentlemanly and able to carry off period costumes.
They both had very difficult relationships with their mothers. Patrick's mother, Dorothea, decided to become a lesbian, which, not surprisingly, led to the breakup of her marriage. Patrick was raised by Dorothea and her 'partner,' Evelyn, whom he called 'Uncle Evelyn.'
He was then sent to Eton, but expelled for selling pornographic photographs and acting as a bookie for his classmates.
Macnee appeared in a minor role in Olivier's film of 'Hamlet'. His big film break came with a rather mediocre musical comedy called 'Les Girls' (1957), in which he played a barrister. The highlights were Macnee and the wonderful Kay Kendall, who was married to Rex Harrison and already ill with the leukemia that was to kill her at the age of only 32.
Interestingly, two years before, Kendall had co-starred with Robert Taylor in 'The Adventures of Quentin Durward', which was supposed to have been a vehicle for Errol.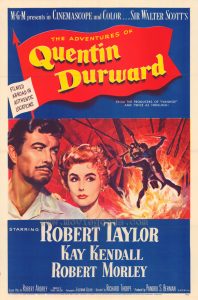 Kay made two films with Harrison, the British comedy 'The Constant Husband,' and 'The Reluctant Debutante,' which also featured American teen queen, Sandra Dee.
Harrison remains a contentious figure. Yes, he could be astoundingly rude and unpleasant, but he could also be heroic in private. Kay Kendall had been his mistress, and though he was in love with her, he remained very attached to his then wife, Lili Palmer.
When Kay's doctor told Harrison she was dying, he and Lili had a discussion. It was agreed they would divorce so he could marry Kay and look after her during the time she had left. He did this devotedly and never told Kay she was ill, which must have been a great strain on him. When she died, he was genuinely devastated.
Of course he spoiled it slightly by telling people what a marvellous and selfless thing he had done, but he did it just the same. Rex went on to marry a friend of my father, Elizabeth Harris, the former wife of roistering actor Richard Harris. The marriage was not an unqualified success, with Rex reverting to hype. One day Elizabeth came down to breakfast and Rex said: 'That's a fine cavalry moustache you have this morning.'
Notwithstanding his lack of tact, Harrison was a joy as an actor, with his astringent rasp of a voice and sheer panache. (He even made cardigans look sexy, though not as sexy as Errol did.) He would have been a major Hollywood star in the 1940s, had it not been for the Carole Landis scandal.
Yet was his behaviour towards Landis as deplorable as all that? Rex was married to Lili when he met the blonde actress, and Carole was no blushing innocent, having been thrice-married herself and rather generous with her favours, as well as being mentally unstable. Or, as we say over here, a complete basket case.
When she started her affair with Rex, she must have known he was not going to leave Palmer. Almost a year later, in 1948, she took an overdose. Rex found her while she was still alive, but there was a delay in calling an ambulance. Apparently, he had been searching through her address books hoping to find the telephone number of her private doctor in order to avert a scandal.
Shocking as this was, there have been other cases of famous men doing the same – even when the women who had overdosed were their wives! Greek tycoon Stravros Niarchos acted in precisely the same manner when his wife Eugenie overdosed and then died, and John Paul Getty Jr likewise, after spouse Talitha Pol ingested too much heroin.
Rex had signed a contract with Fox, which was dropped 'by mutual consent.' Perhaps this made him bitter and thus increasingly choleric. I wonder if he ever met Errol? He certainly knew Errol's chum David Niven, who was very dyspeptic about Rex in his memoirs, but kept inviting him to dinner, just the same.
— PW