Archive for August, 2011
Here he is in all his wonderful might!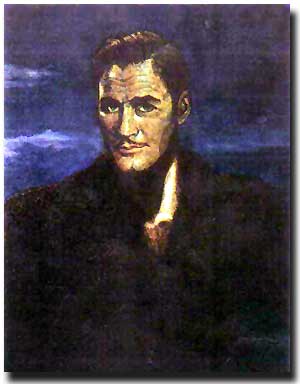 The picture is located at the Errol Flynn estate in Jamaica.
~~~~~~~~~~~~~~~~~~~~~~~~~~~~~~~~~~~~~~
People like and dislike this painting – BUT – one fact remains this painting captures to perfection Errol's Mona Lisa "non-smiling" captivating SMILE.
His eyes projecting thought and feelings combined with his unusual facial expression of tenderness are communicated to perfection in this painting.
The painting maybe should be called "The Seductive Smile" or "The Melting Process"
There are two photographs in which he displays this very smile! (See below)
~~~~~~~~~~~~~~~~~~~
Errol with his picture at the fireplace in his living room!
And here are the two photo captions of "The Seductive Smile"
It was the melting process!
— Tina