I guess we could start a thread just about Robin Hood in his various forms!  I am having a bit of trouble adding photos -so I am just posting this way.
There must be thousands of items on the internet about Robin. I found yet another spot celebrating 100 years of baking (Robin Hood flour):
"One of the most visceral aspects of the company's development over the years is the evolution of its logo featuring Robin Hood, in various incarnations.
In one of his earliest appearances, in 1910, he bore a passing resemblance to King Edward VII. Then, in 1936, a redesign gave him the plumage and dashing good looks of Hollywood star Errol Flynn's portrayal of Robin Hood. – See more at: www.bakersjournal.com…." The Adventures of Robin Hood was not released until 1938- so now I am wondering if it is Douglas Fairbanks' version of Robin that we see on the earlier flour packaging and on the side of the Mill in Saskatchewan.
There were also comic books put out during this time and of course I had to post this for you: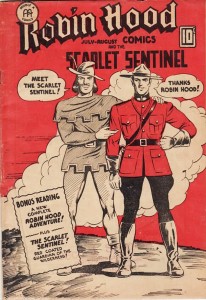 My universe now makes sense!
— Maria