From very early on, Errol exhibited an intense interest and unique talent for entrepreneurial adventure. Inspired by his father, this often involved scientific exploration and experimentation. Cruise of the Zaca is an eminent example.
But when and where did young Errol first profitably demonstrate this profound talent and interest? Evidence indicates it was in connection to Professor Flynn's research into the reproductive biology of Tasmanian bettings. In fact, Errol essentially states so in My Wicked, Wicked Ways:
"When school finished, I raced home to be at his side, to hurry out into the back yard, where we had cages of specimens of rare animals… Through Father's activity I made my first venture into commerce. He bought all the kangaroo rats [bettongs] he could get hold of for Hobart University. I learned to set box traps in the hills of near-by Mount Wellington. He paid a shilling a head."
Putting Errol's bettongs to exceptionally good use, Professor Flynn published a landmark paper in 1930 on the reproduction of the Tasmanian bettong.
Here is a rare nocturnal photo of the hard-to-catch, truffle-hunting Tasmanian bettong in the act of night-jumping.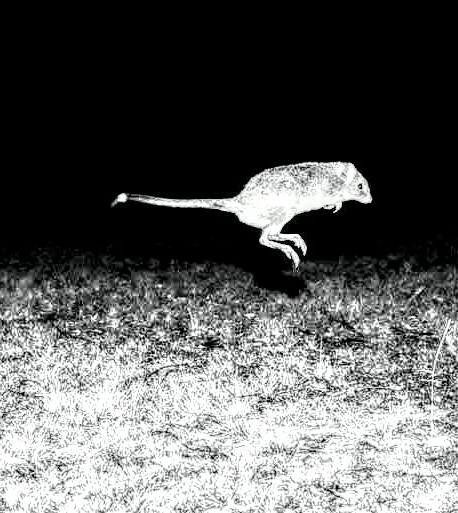 And here is a spectacular view from Mt. Wellingon of the hills of Hobart where pre-teen Errol trapped bettongs for his father's pioneering research into marsupials.
— Tim