Archive for the 'Co-Stars' Category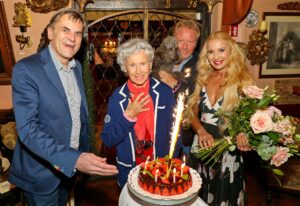 Dear Flynnmates, for some actresses filming with Errol Flynn equals a life insurance.
Maureen O`Hara lived for 95 years, Lady Livvie even saw 104 and recently Mrs. Waltraut Haas celebrated her 94th birthday.
The co-co-star from his unfinished Will Tell epic overcame a stunt-worthy fall down her staircase and plans on a big party once the corona`s box is closed again.
Errol still vividly is on her mind in her new autobiography "But now I  tell it…"
When he fell ill during the ill fated shoot, she cooked him chicken soup.
But when approached by King Farouk for a liaison in exchange for funding the film, she left the post production scene in a hurry.
She has no regrets of not making it to Hollywood ("I wouldn`t have wanted my nose shortened, anyway"), since she had a fabulous career in Europe starring alongside local greats Peter Alexander, Jopi Heesters and Curd Juergens.
I raise a glass of apple wine to her.
Enjoy,
— shangheinz