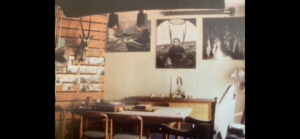 Dear Flynnmates,
here are some photos of Sean Flynn`s Paris apartment courtesy of PARIS MATCH Magazine.
It was kept intact by his mother Lili Damita, long after he went missing in Vietnam, in hope he might return.
Its interior shows his old man`s lust for adventure as well as his mom`s knack for flair.
A miniature Zaca can be spotted sitting atop the book shelves and a how-to-become-a-photographer manual resides prominently on the kitchen table.
This time capsule`s address was Champs Elysees No. 77.
Enjoy,
— shangheinz