Archive for the 'Errol Flynn Book Covers' Category
We got a great recommendation in the Mail Bag from Greg Maradei for a new book about Errol Flynn …
"I received my new book today, Errol Flynn The Illustrated Life Chronology by Robert Florczak, and I love it.  Like most fanatics of our dear boy, I own and have read all the books on Errol Flynn, the majority of which have told the same story and danced around the same facts.  New information and new facts are what I crave, and Robert's book completely delivers to include a volume of rare photos that I have never seen. For instance, if you want to see the chapel then and now where Errol and Lili were married, or Niven and Flynn's house nicknamed "cirrhosis by the sea" you're in for a treat.  By the way, that house is neither on Linden Drive nor at Marion Davies' "humble" beach abode.  
"This is an illustrated chronological book of Errol Flynn's life, and it provides a tremendous amount of accurate and detailed information never before published including rare events and anecdotes.  Additionally, the mass of production notes provides the reader with what it was like for producers and directors to work with Flynn on a film.   
"Robert worked tirelessly, researching Flynn for many years down every avenue and from all resources possible and successfully created a detailed and extremely well–documented chronology of one of recent history's most enigmatic lives.  So, for those of us who want to know more about Errol Flynn and his life – here it is …
"Thank you, Robert, for your excellent work and a great and extremely unique book on Errol Flynn."
– Greg Maradei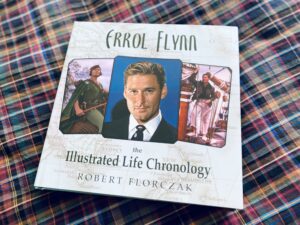 This book is available on Pre-Order at Amazon.
We'll publish some reviews when the long awaited book is published after February 28, 2022.
Thanks, Greg!
— David DeWitt