On the 71st Anniversary of His Passing
January 22, 1950
…
Alan Hale was one of Hollywood's greatest character actors. Mostly remembered for his performances with Errol Flynn, he also played in films supporting Lon Chaney, Wallace Beery, Douglas Fairbanks, James Cagney, Clark Gable, Cary Grant, Humphrey Bogart, and Ronald Reagan.
He appeared with Errol in all the following:
The Prince and the Pauper (1937)
The Adventures of Robin Hood (1938)
The Sisters (1938)
Dodge City (1939)
The Private Lives of Elizabeth and Essex (1939)
Virginia City (1940)
The Sea Hawk (1940)
Santa Fe Trail (1940)
Footsteps in the Dark (1941)
Desperate Journey (1942)
Gentleman Jim (1942)
Adventures of Don Juan (1948)
..And in Thank Your Lucky Stars (1943), but not together.
From one of the many top shelf posts of TCM TomJH of the TCM Message Board – excerpted discussions regarding Alan Hale's work and personal relationship with Errol Flynn, and a segment regarding EFB Author Steve Hayes.
"Alan Hale, Character Actor Support Par Excellence"
December 17, 2017 in General Discussions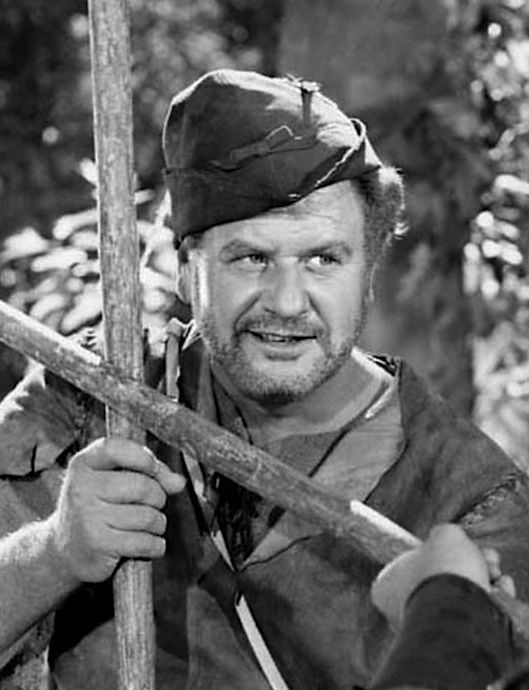 "Flynn and Hale have such a great camaraderie in their films together and you can tell that they really were friends in real life.
Hale brought so much to the Flynn films beyond just his performance. You always had the feeling of observing two friends having fun together."
Gentleman Jim

…
"Gentleman Jim (1942). A father once again, this time to Flynn's boxing dandy Jim Corbett in another Walsh-directed turn-of-the-century affair. Hale has a riot in this film, constantly laughing, throwing phantom punches in the crowd at one of his son's fights, dancing an Irish jig with the family and getting drunk at a celebration party following Corbett's triumph in the ring over the legendary John L. Sullivan. At one point Hale is seen staggering home, staring at his outstretched hand, having just shaken the hand of the great Sullivan. When asked by his son what he's going to do with that hand now, Hale emphatically proclaims, "I'm not even going to wash it!
I couldn't find a photo of this moment on Google Images, but one of my favorite parts of Gentleman Jim is the end at the wild celebration party. A chair is thrown through the glass doors, then Hale opens the door. His hair is all mussed and with his eyes and mouth opened wide, and he yells "GIVE 'EM ROOM! GIVE 'EM ROOM!"
…
The Sea Hawk

…
"I also like Alan Hale with Flynn in The Sea Hawk. At one point, both men (along with the rest of the crew on their ship) are captured and forced into being galley slaves. Flynn and Hale orchestrate a plan to steal a knife from the guard and overtake him, take over the ship and free their crew.
One of Hale's trademarks was his great "jaw drop" double-take. Watching him and Flynn on screen together was pure joy. That's one thing that is missing from today's films – chemistry. We have great actors, but it doesn't appear that anybody is really having any fun up on the screen any more."
…
The Adventures of Don Juan
"There are some scenes between them that I always love to watch in their final film together, Adventures of Don Juan. Hale plays Don Juan's servant, Leporello, always trying to assist the Don and extricate him from sticky situations, many of them of a humourous nature. But even though his character is a servant Hale plays the role like a friend.
When Flynn is interrupted in his attempted seduction of a woman by her irate husband he leaps from a balcony to the ground below, where Hale awaits dozing. They look a each other (oh, they have been in this same situation so many times before) and there is a simple two word exchange between them.
"Husband," Flynn's Don Juan says, a little out of breath.
"Horses," Hale replies pointing in their direction where they both begin to run.
"One of my favourite little moments between them occurs towards the end. They are sitting at a table, hiding out in a cantina from the military which is hunting for Don Juan with prison, or worse, awaiting him if captured.
Flynn says he must leave Spain but he doesn't want Hale to accompany him to a life of uncertainty.
"Do you think I would let you go roaming about the universe without me?" Hale says, "I'm going with you!"
"And if I order you to stay?" Flynn says.
"Then I shall disobey you!" Hale emphatically replies.
There's a lovely closeup of Flynn's face, a look of warmth in his eyes, as he reaches across the table and briefly places his hand with affection on top of Hale's. Hale smiles. Done! They will stay together through thick and thin.
What always helps to make this little moment work so well is that it seems a reflection of the friendship that it existed between the two actors."
…
A reference to EFB Author Steve Hayes was made as follows in this TCM Message Board Post:
"Steve Hayes is a writer, part time adventurer, who wrote two books about his Hollywood experiences called Googies Coffeeshop to the Stars. For a month he lived in a room in Errol Flynn's Mulholland home, and got to know the actor quite well, continuing to see him off and on afterward for a while. Among other things, he mentioned that Flynn went into a period of depression due to Alan Hale's death."
— Tim