April 22, 1938
Harrison Carroll
In Belfast, Olivia de Havilland spent a day with Errol Flynn's parents. His father, a professor of biology at Queen's University, still isn't sold on Flynn's acting career. He told Olivia he wishes that Errol would give up the cinema, return to Ireland, and take up a more serious profession.
Warners would be satisfied if he would even get off his yacht and return to Hollywood.
…
What was Professor Flynn thinking? Did the distinguished zoologist not study the biology of homo sapiens in addition to marsupials? What red-blooded Aussie human male in his right mind could ever quit this? Certainly not Virile Errol Flynn!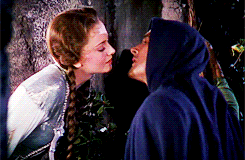 Making movies with Olivia was a very gracious thing.
…
And a very passionate thing.
…
Errol was right, and right on time, not to miss that train!
— Gentleman Tim