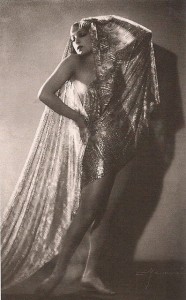 My dear fellow Flynn fans,
here is what I dug up from the ancient archives of the Austrian National Library concerning the sexy sensual sparkplug we know as Mrs. Errol Flynn I.
Born Liliane Marie Madeleine Carré in Blaye near Bordeux on July 10th of either 1901 or rather 1904, she appeared in dancing revues in the Grand Nation`s capitol as early as age 15.
Of purported Iberian ancestry she started her career with the stage name of Damita del Rojo. Later she changed it to Lily Seslys under which she got credited with favorable performances during the silent film era.
As soon as film producer Count Alexander "Sascha" Kolowrat had laid his ladyloving eyes on her, he left no jewel unturned to lure the little dame from Paris to Vienna. This movie mogul went to great lenghts and used his personal riches to put big pictures onto the screen such as the then costliest movie up to date "Sodom and Gomorrah".
Not only a bonvivant he was also a connaisseur of young talent and for example introduced Marlene Dietrich to the art of filmmaking.
But Lili was not to be seduced easily. She was determined to become a star and not end up a starlet. When arriving at the central train station of Vienna she was accompanied by an older woman (who may or may not have been her mother) as bodyguard. It was only when Count Kolowrat gave her top billing in his next three films partly made in Berlin: "Fiacre (stagecoach) Nr. 13", "The Golden Butterfly" and "Plaything of Paris" that she agreed to terms and the chaperone was sent home. Director of all three flicks was a certain Michaly Kertesz, who soon was to embark on a shiptrip to Hollywood with no return ticket on a contract by Warner Bros.
Here is a comment of the "Neues Wiener Tagblatt" on the upraising star from the 4th of may 1929:
A fairytale out of real life
How Lili Damita found her way to film would make a fine story for a movie full of romance and sentimentalities so well liked these days, that has audiences streaming tears down their cheeks. Dancing in Boulevard venues at age 15 she was discovered and brought here by the late Count Alexander Kolowrat of Sascha Film Factory. Instand success came via "Das Spielzeug von Paris" under the guidance of one Michaly Kertesz providing a never before seen array of technical effects and scenic splendor. Standing out nonetheless was the appearance of this juvenile diva with her slender and flexible figure and that fine Parisian facial features. A new star had emerged.
A household name by now Lili Damita engaged in a torrid affair with the Prussian Prince Louis Ferdinand von Hohenzollern much to the delight of the European newspaper media. The 20 year young crown prince was madly in love with the temperamental French actress and vowed to marry her. His royal family naturally didn`t approve of the impossible liaison and urged L. Ferdinand to keep things "physical". Rumours that Lili held his cousin, the Duke of Kent in equally intimate esteem may have contributed that Ferdinand ultimately married Princess Kira Romanowa. But not before following Damita to the United States and even accepting a worldly job at the Henry Ford automobile plant in Michigan. Lili by then had already set her sight on another royalty- the Baron of Mullholland.
Enjoy,
— shangheinz