Ensuing his first year in Papua New Guinea (PNG), Errol suffered frequent recurrences of malaria throughout his life, to the very week of his death.
He appears to have contracted malaria for the first time in 1928, months after he first moved to Papua New Guinea in October of 1927.
Malaria plagued him during 1929, which factored into his decision to return to Sydney, after 25 months in PNG.
On June 18, 1930, the Rockingham Morning Bulletin states that "Captain Flynn" was suffering from a "touch of malaria".
In 1931 and 1932 Errol had multiple malarial attacks, , including on the "black-birding" trip during which he was ambushed and injured. He reported that during that excursion he was "freezing and sweating at the same time" from malaria.
In March of 1933, newspapers reviewing In the Wake of the Bounty reported of Errol's malaria in PNG.
In May of 1933, While in China, Errol reports having suffered a bout of malaria, "shaking and shivering" after his brief affair with Ting Ling O'Connor in Macoa.
In 1935, Errol suffered a malarial attack during filming of Captain Blood.

In 1937, Errol publishes Beam Ends, regarding which the Sydney Daily Telegraph reports that Errol was hospitalized in Townsville with malaria.
In September of 1938, Errol was taken to Good Samaritan Hospital prior to opening of The Sisters because of "malarial fever" and respiratory infection.
Circa late September 1940, Errol had a bout with malaria in Mexico City.
In September of 1941, Errol collapsed in an elevator in part due to malaria.
In 1942, Errol was documented to be suffering from recurring bouts of malaria, which contributed to his not being accepted by the Armed Forces for service in WW II. Coupled with heart murmurs and tuberculosis, he was told by doctors he would not survive the decade.
In Vancouver, shortly before his death in October of 1959, Errol had a bout of malaria.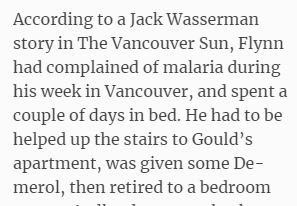 — Gentleman Tim