Errol Flynn's Grandson Stars in Ojai Play "Who's Afraid Of Virginia Woolf?" runs through Feb. 22
Legendary actor Errol Flynn's grandson Sean is part of the "Who's Afraid of Virginia Woolf?" cast in Ojai.
Flynn plays the role of Nick alongside Jessica Stone as Honey. They play the young couple visiting George (Michael Permutter) and Martha's (Tracy Williams Sutton) home for a faculty party.
The Edward Albee play got its name from graffiti written on a mirror in the bar.
It also conjured up the song "who's Afraid of the Big Bad Wolf."
Yet Virginia Woolf is a British author and feminist.
The play deals with marriage, relationship and heartbreak.
Director Tom Eubanks said the actors have a wide variety of expertise, including TV, movies and voice-overs.
The play won the Tony and became the film starring Elizabeth Taylor and Richard Burton earned Taylor an Oscar.
"Woolf" opens the 2015 season and runs through Feb. 22 at the Ojai Art Center, 113 S. Montgomery St., at 8 p.m. Friday and Saturday nights and 2 p.m. Sundays.
Cost is $18 general, $15 for seniors, students and Art Center members. Reservations are available by calling (805) 640-8797 or via www.OjaiACT.org….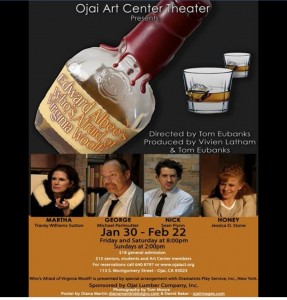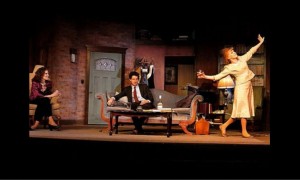 — tassie devil