Here are a couple of samples that won't be in the book, mostly because they just aren't good enough, but also because I don't want it to be Flynn-heavy. The publisher who first expressed interest convinced me to widen the scope of film choices to include more films from recent times, something I reluctantly agreed to even though seriously cutting into the samples from classic films.
Often, film locations will be discovered, only to pose difficulties in positioning oneself in the precise spot from which the movie's cameraman filmed the scene (David can attest to this, having joined me on a search I was doing to set up a shot for a scene from "Charge of the Light Brigade"). Also, although only official stills are being used for the book, there are occasions when no stills were taken for a particular scene and I use a screen grab to locate and set up a "Now" shot for my own interest. This is the case in the two samples shown here. I may not be publishing them, but they are fun for me to share with fellow fans on the blog.
The wide sample is a composite of screen grabs and my location photos. I will often put a composite together to show a wider view of the location that the panning movie camera didn't capture in one framing (see the duel with Friar Tuck in my "Then & Now" page). The two stitched screen grabs show Flynn on horseback in both shots, and required me to shoot from two positions to replicate the panorama. The results are less than satisfactory (there are condominiums and overgrown trees now in the way), but I think we Flynn fans can appreciate it more than would the ordinary film fan.
Also included is a sample from another scene from the same basic location, a better lining- up of my "Now" shot but less interesting because the scene doesn't highlight Flynn.
Enjoy!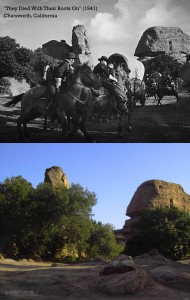 — Robert