Tonga, I believe, was the island near which Fletcher Christian launched his now-infamous Mutiny on the Bounty.   BUT, this tab is dedicated not to that Tonga, but rather to the 72-ft sailing vessel that Errol is believed to have (rather mysteriously) sailed through the Caribbean, perhaps mostly around pre-Castro Cuba.  Information, and especially hard evidence, is hard to come by.  I am in St, Petersburg, Florida, investigating the final demise of the Tonga, where it reportedly burned and visited Davy Jones' Locker off the coast of the town's preeminent neighborhood, Snell Isle, in 1985, as a result of Hurricane Elena.
But, first, before that sinking, there was this "sinking"!
Here She Descended Into Her Watery Grave: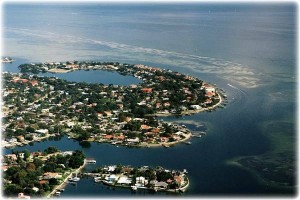 Very Near the St. Petersburg Pier (in background below), where (Marlon Brando's) HMS Bounty was simultaneously located. … Which, decades later, also sank during a hurricane/superstorm – Hurricane/Superstorm Sandy!
— Tim