Archive for the 'Special Events' Category
An EFB Four Score News Report
In 1937, at her 118-room beach house in Santa Monica, Marion Davies threw William Randolph Hearst a birthday bash to end all birthday bashs. By all accounts, this circus-themed extravaganza was a sight to behold. One sight, however, surely didn't please Citizen Hearst, though. That was the sight of Errol Flynn and co-troublemaker David Niven dressed-up as a two-man elephant "shovel brigade". The elephant in the 118-room beach mansion, of course, was WR, the birthday boy himself.
… Only Flynn would have the nerve to pull such a prank against the career-breaking Citizen Hearst.
LOS ANGELES EVENING HERALD EXPRESS – May 2, 1937
Huge Stories and lots of photos on W.R. Hearst's Birthday Party.
One photo with Cary Grant and many other revelers, including
Randolph Scott and Marion Davies as trapeze performers, calling
themselves The Flying San Simeons. Errol Flynn and David Niven
made up a shovel brigade, wearing blue and white striped sweatshirts
with tight fitting trousers, Miss Davies costumed as Russian Circus
performer on Merry Go Round. Others attending:
Basil Rathbone, Hal Roach, Walter Wanger, Clarence Brown, Harold Lloyd,
Henry Fonda, Lloyd Bacon, Mervyn LeRoy, James Gleason, Charles Boyer,
Leslie Howard, Samuel Goldwyn, Frank McHugh, Lucien Hubbard, Hal Wallis,
Pat O'Brien, Gary Cooper, Ben Hecht, Walter Winchell, Alice Faye, Stu Erwin,
Pandro Berman, Carole Lombard, Aileen Pringle, Anita Louise, Ginger Rogers,
Marlene Dietrich, Douglas Fairbanks Jr., Charles Ruggles, Tyrone Power Jr.,
Clark Gable, Adrian, King Vidor, Caesar Romero, Jackie Coogan, Louis B. Mayer,
zillions of others.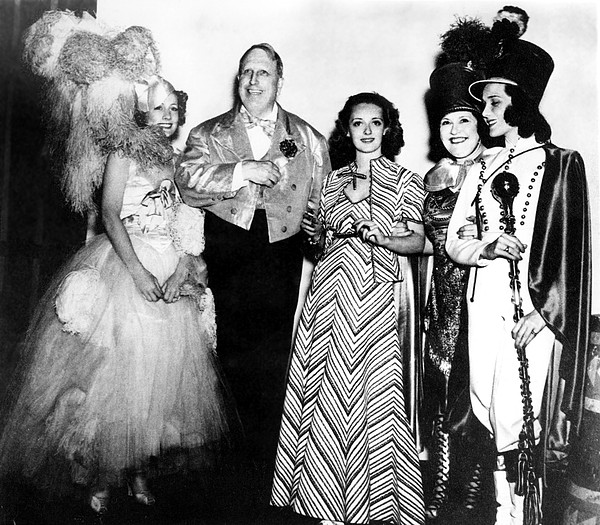 — Gentleman Tim