Robert Matzen has written a new book about the life of Jimmy Stewart and in the book he features someone many of us at The Errol Flynn Blog love very much: Trudy McVicker. Her connections to Flynn go deep. She encountered him as a young girl when he and his wife Pat were staying at a hotel in Germany and he smiled at her as he walked past her and of course she never forgot it. Later, she became great friends with Earl Conrad – the ghostwriter of My Wicked Wicked Ways who worked intimately with Errol to give the world his life story.
Robert writes to us:
David, my new book, "Mission: Jimmy Stewart and the Fight for Europe" is being released today and I've been meaning to contact you. Could you please let the Flynn network know that Trudy McVicker is featured in Mission because her life intersected with the Eighth Air Force on several occasions. I spent months working with her on her story as a witness to history and she is known by her birth name Gertrud Siepmann in the narrative. There are five short chapters that concern her.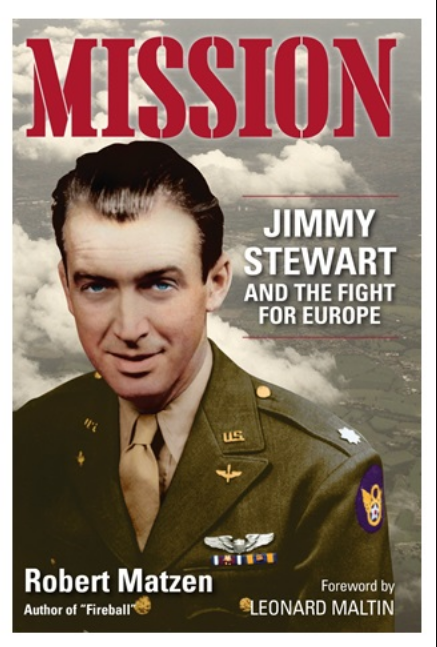 I approached Trudy to tell her story because I knew she was in the war but didn't know any details. It turns out she remembers Kristallnacht pretty vividly and saw Hitler speak in 1939. She was a witness to the first RAF bombing of Germany in Wilhelmshaven in 1940 (after relentless night bombing the family fled to the country), and in 1944 she lived in Eppstein just northwest of Frankfurt when Jim and the boys flattened it. She remembers a B-17 crew of Americans that was captured and paraded down the Bergstrasse of Eppstein and she watched dogfights between Allied and Luftwaffe fighters. On one occasion she had to dive for cover when a P-47 Thunderbolt detected movement and swept down to "stitch the road." Her mother and brother were wounded in another P-47 attack on a train they were riding in.
It was a difficult decision on her part to agree to be a part of the book because many of her memories are painful, and she was concerned how Stewart would be portrayed, as well as how her family would be seen given that her father was affiliated with the German Navy. But she did agree and now her precious link to history has been preserved in the book.
There are three supporting characters that help give a 360-degree view of Stewart's world: Gertrud Siepmann the little German girl (12 when the war ended), Clem Leone, an American radioman from Baltimore, and Dolfo Galland, the commanding general of German fighters. With these three, we get to see not only what Jim saw from the flight deck of a B-24 but also the view amidships from the radio operator's position, the view of the bomber stream from the German POV, and the effect of bombing on the ground as seen by the Siepmann family.
I have known Trudy for almost 40 years and the fact that she grew up in the middle of WWII was an abstract thing until I started to read some short stories she wrote about it and interview her for details. Last year Mary and I visited Eppstein where she lived and also Frankfurt, a city she still dearly loves. We even saw the very bomb shelter in Eppstein where she and her family would duck–it's still there, carved into the rocky hillside with the big wooden doors padlocked (photo attached). The more we talked, the more things she remembered and the results are pretty spectacular.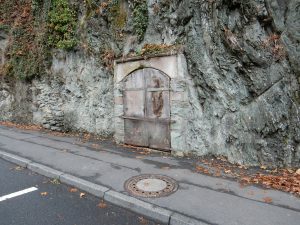 I thought your group would get a kick out of the fact that Trudy is having the spotlight shone on her. After her lifetime of generosity and helping others, nobody could possibly deserve it more.
Today is Mission's official publication date and it's already doing pretty well on Amazon. It was just a couple of hours ago rated a "must-read book of the week" by the New York Post. The website is www.goodknightbooks.com….
Thanks for agreeing to spread the word, Dave.
Robert
— You are very Welcome!
— David DeWitt