July 27, 1936
Jimmy Starr
LA Evening Herald Express
Eight years ago when adventuresome Errol Flynn, now Warner's new film rave, represented the British Government at New Guinea, one of his many odd duties was to act as physician and surgeon.
When a native named Joe Speedie appeared at headquarters with a gangrenous toe as a result of having been bitten by a poisonous fish, it was "Dr" Flynn who performed the necessary amputation of the infected toe. The emergency operation saved Joe's life.
Last week, "Dr" Flynn received a belated fee for his surgical gesture, a valuable gold-headed cane. Joe explained in the accompanying letter that he had seen Errol in Captain Blood and was most happy to have located his benefactor of long ago. And Errol's quite proud of his 'fee.'
…
The article says that Speedie was bitten on the toe by a poisonous fish. What it likely meant is that he was bitten or injected by a venomous fish.

Venom is injected. Poison is ingested.
"Poisonous fish are fish that are poisonous to eat. They contain toxins which are not destroyed by the digestive systems of animals that eat the fish. Venomous fish also contain toxins, but do not necessarily cause poisoning if they are eaten, since the digestive system often destroys their venom."
I believe the fish which "bit" (i.e. injected) venom into Joe's toe may have been a Stonefish. They are prevalent in the waters off Papua New Guinea and are "the most dangerous venomous fish in the world.

They are the most venomous fish in the world. The attack can last as little as 0.015 seconds! When not chasing their prey, they move slowly. But they're venom is speedy, more speedy than Speedie.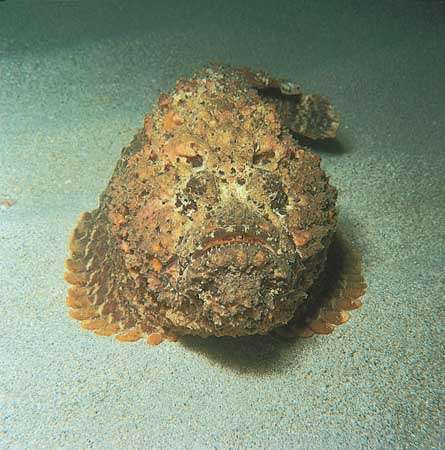 "Stonefish are venomous marine fish classified in the genus Synanceja and the family Synancejidae, found in shallow waters of the tropical Indo-Pacific. They are sluggish, bottom-dwelling fish that live among rocks or coral and in mud flats and estuaries. Thickset fish with large heads and mouths, small eyes, and bumpy skins covered with wart-like lumps and, sometimes, fleshy flaps, they rest on the bottom, unmoving, blending almost exactly with their surroundings in form and color. They are dangerous fish. Difficult to see, they can, when stepped on, inject quantities of venom through grooves in their dorsal-fin spines. Wounds produced by these fish are intensely painful and sometimes fatal."
Watch your step! They can also live and attack on land for up to 24 hours!!
— Gentleman Tim
— Tim