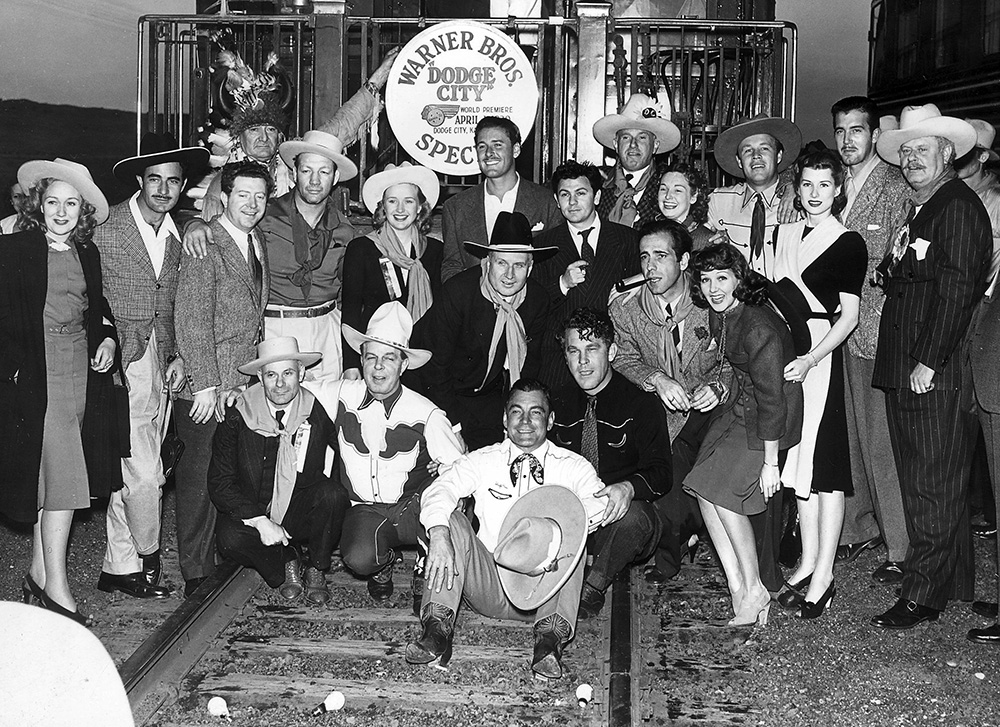 STARS GET WELCOMED FOR FILM PREVIEW
Evening Herald Express
By Jimmy Starr
Dodge City, Kan. April 1 (1939)
For years they have been saying that Hollywood is colossal, but it took the Warner Brothers' 14-car special train which arrived in Dodge City this morning to prove that moviedom was never colossal until today.
With no strings on a bank account, the party, which includes 35 stellar names, 72 newspapermen and magazine correspondents and cameramen and dozens of studio technicians departed Thursday night from Santa Fe station in Los Angeles and arrived in Dodge City this morning.
A typical Hollywood gathering of several thousand persons were at the station to greet the stars. Radios and loud speakers blared gala tunes. Dozens of luminaries were ushered through wildly gesticulating crowds.
The baggage car of the special train was transformed into a replica of the famous "Gay Lady Saloon" of Dodge City's wildest and wooliest days, and it was visited by thousands of Dodge City fans.
OLD WEST ATMOSPHERE
The Warner studio had given it an Old West atmosphere with sawdust on the floor, typical signs warning customers against crooked faro dealers and advice to check shooting irons with the bartender. All it needed to complete the picture was a dirty old villain to shoot it up and a tree to hang him on.
Then there was a palace car, but it was not for for the human stars of Hollywood. Instead it housed 16 equine stars to be used in an especially staged rodeo in Dodge City this afternoon as a warm-up for the triple preview of the 2-million dollar Technicolor picture Dodge City tonight. In order to accommodate the terrific influx of visitors from four states it was necessary to engage three theaters, which will run all night, to show the production to the tremendously swollen population.
150,000 THERE
Dodge City, which has a normal population of 13,000 persons, is today entertaining a swarming multitude of 150,000 yelling, restless, staring, snoopy, autograph-hunting, curious, hungry, thirsty, dusty, foot-weary and movie-mad spectators. As a tribute to Jack Warner and the picture, Dodge City citizens took it upon themselves to emulate the founders of their rough and ready village by growing enough bushy beards that not only would frighten Boris Karloff, but also would supply a thousand baseball teams for the House of David. It was indeed a sight to turn a mattress factory green with envy.
ODDITIES BETWEEN WHISTLESTOPS
Olivia de Havilland, heroine of the picture, was the heartbroken ingenue of the train when she was rudely and without warning snatched from the special at Pasadena.
It seems that Mr. Selznick, who stalled for two years before making Gone with the Wind, is now in a big hurry. It also happens that Miss de Havilland is playing Melanie in Mr. Selznick's picture and there was rumor that her presence would be needed. Olivia jumped up and down, stamped her feet, yelled and carried on. But she isn't on the train anymore. Poor Melanie.
SCHOOLS LET OUT
Unusual fascination for such a stellar caravan caused city officials of three cities to declare a school holiday so that Young America could see and hear some of its celluloid heroes and heroines. Fifteen-minute stops were made in Flagstaff, Ariz.; Gallup, N.M.; and Albuquerque, N.M. Indians, Mexicans, hermits, prospectors and ranchers with their families came afoot, on horseback, in rickety buggies and chugging jalopies to join the townsfolk in their amazing display of admiration for Hollywood's parade on wheels.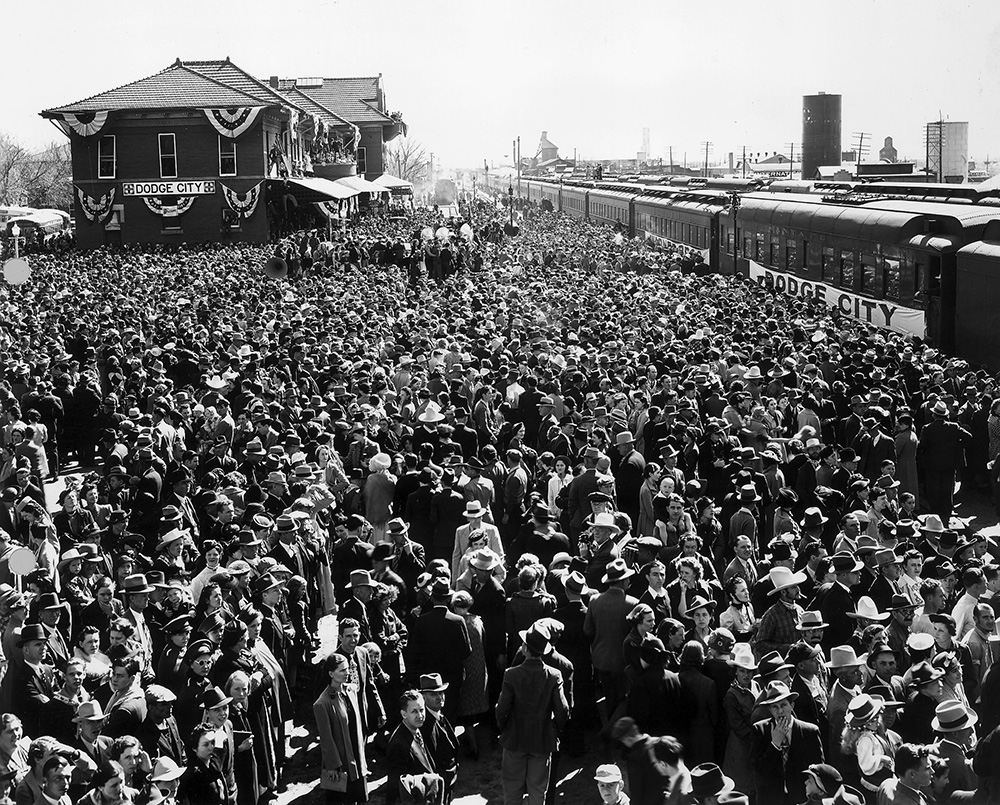 — Gentleman Tim