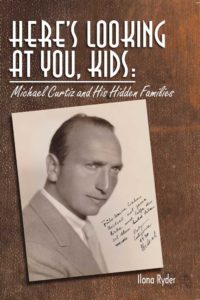 Dear fellow Flynn fans,
the definitive behind- the- scenes book has seen the light.
My dear friend Ilona Ryder, a former teacher at the Grant MacEwan Community College, has made her promise true and wrote an intimate portrait of her grandfather Michael Curtiz.
For the first time using never- before- seen documents she lifts the veil on  this famous director`s family ties, trials and tribulations. Let me tell you this: he was a busy man!
Besides directing up to 175 films on both ends of the pond and speaking several languages simultanously, he constantly kept falling in love all over again. These liasions resulted in various children, who finally have a say in (t)his biography.
He managed to keep in touch with his loved ones, helped where he could during those dire times of war and never forgot his Austro- Hungarian roots.
If you like me are into cinematic anecdotes from an up close and personal view, you are in for a treat.
Mrs. Ryder interviewed many people over the period of 20 years (Lady Livvie being the most prominent of the lot) to add an angle to the film maker and family man who brought us Casablanca, The Adventures of Robin Hood and Yankee Doodle Dandy.
There is some Flynn in, but as far as Lil` Damita is concerned… you have to see for yourself.
Get it here if you can: pagemasterpublishing.ca/shop/heres-looking-at-you-kids-michael-curtiz-and-his-hidden-families/…
Congrats,
— shangheinz