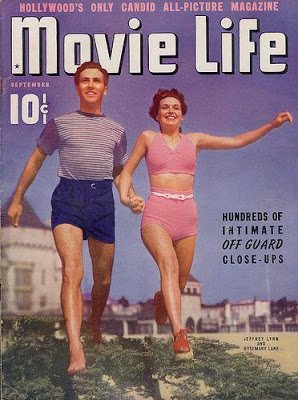 April 26, 1938

Elizabeth Yeaman
Hollywood Citizen News
Warners are remaining absolutely mum on the subject of Errol Flynn, whose picture, Robin Hood, was enthusiastically greeted at a preview last night. Flynn, so far as known, is still aboard his yacht in waters off the Bahama Islands. Frank Heacock, a member of the publicity department who is with Flynn, has communicated several times with the studio, but apparently Heacock cannot get Flynn to say yes or no about returning for Sister Act.
It may be that Flynn thinks his absence speaks for itself. However, with the picture ready to start and the rest of the cast all lined up, a delay in production will be an expensive matter. If Flynn should return promptly, he probably would be forgiven and put right into the picture. But in view of the silence and his absence, naturally the studio is moving to protect itself against delay.
As a result, Jeffrey Lynn has been given extensive tests for the past few days, for the role that Flynn was set to play in Sister Act. Lynn is 27, and those who saw him on the local road show of "Brother Rat" will remember him as a member of that company. Warners were immediately interested in him and sought his release from George Abbott. He was brought into the studio last January, and has been going through a grooming process. His first movie role of any size was When Were You Born?, which has not been released. And he had the role of romantic interest opposite Kay Francis in In Every Woman's Life.
If Lynn suddenly steps into the lead opposite the Lane sisters in Sister Act, it will be a very sudden leap up the ladder of opportunity.
***
The Jeffrey Lynn story:
www.outofthepastblog.com…
In Lynn, each girl sees the attainment of her desires… See, beginning at 1:01 in the official trailer below:
Haven't seen it anywhere, but methinketh the name "Jeffrey Lynn" was likely created to sound like "Errol Flynn". His real name was Ragnar Godfrey Lind.
— Gentleman Tim