"ERROL FLYNN EN CARTEGENA"
What would you do if the most popular actor in the world arrives at the door of your house at that time, greets you with your name and asks for permission to enter?
The first thing would be to be amazed and that is what happened to Don Antonio Fuentes, founder of the first record company in Colombia, the one with the yellow seal, the one with the Clock Tower of Cartagena.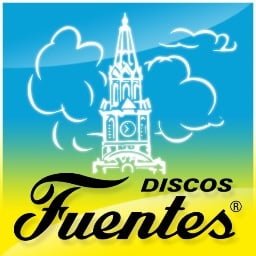 Don Toño, as he was familiarly called by his employees and neighbors in La Heroica, was born in Cartagena on May 18, 1907, had toured several countries and even fell in love with the Hawaiian guitar. Upon returning to [Columbia] he set up the Emisora ​​Fuentes and determined to rescue the autochthonous rhythms of the Caribbean. In 1934 he made the first productions of figures such as Guillermo Buitrago, Esther Forero, Los Trovadores de Barú, Lucho Bermúdez, Los Corraleros de Majagual, Pedro Laza, Rodolfo Aicardi, Los Hispanos, Gustavo Quintero and dozens of other groups.
La Heroica, Cartagena: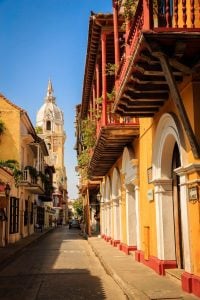 I always asked the artists if they had "some verses" out there and with that, I was able to do a whole song and a success. Sometimes the musicians would tune or give one more note and Don Toño would simply say, "leave that so that's what you're going to like", as indeed it happened.
Thanks to the contacts of Don Toño Fuentes, the recordings were reproduced in countries such as Mexico, Cuba, Argentina, Venezuela and the United States. He had a recognition in many countries and was the great ambassador of Colombian music.
For his part, Errol Leslie Thomson Flynn, known as Errol Flynn, was the most popular actor in the decades of the 30s, 40s and 50s and was born in Hobart, Australia on June 20, 1909. He was nationalized as an American and became a star for his characters of heroes, where he combined great kisses with his adventurous movements.
One of those roles was the first version of Robin Hood, where despite appearing in green tights, a hat with feather and leather gloves, conquered the hearts of thousands of young people who melted to see the way they twisted the lips of the protagonists of the stories.
He is remembered for his roles in films such as "The Light Brigade's Charge", "Robin of the Woods", "The Private Life of Elizabeth and Essex", "Camino de Santa Fe", "They Died with Their Boots on", "The Island of the Corsairs", "Swords Crossed", of a roll of more than 50 films.
As a fan of yachting he sailed to Cartagena, according to Don Gabriel Pulido, promoter of Discos Fuentes in Bogotá. When he arrived at the walled city, he did not have a hard time finding the house of Don Toño Fuentes, where he was well received, tasted good rums, ate up the head of a cat, dined on the beaches and danced the best of coastal music.
It was an unforgettable visit [after which] he continued with films, romance, and adventure.
On October 9, 1959 he traveled to Canada in order to sell his yacht and when he was going to ride the plane back he felt bad, a doctor gave him a few days off and on October 15 he died a heart attack. The idol of the cinema left, after scarcely 50 years, [but not until after] enjoying the rum and rumba of Cartagena.
____________
Here's a Sound on Sound account of Don Tono and Disco Fuentes:
www-soundonsound-com.cdn.ampproject.org…
— Gentleman Tim