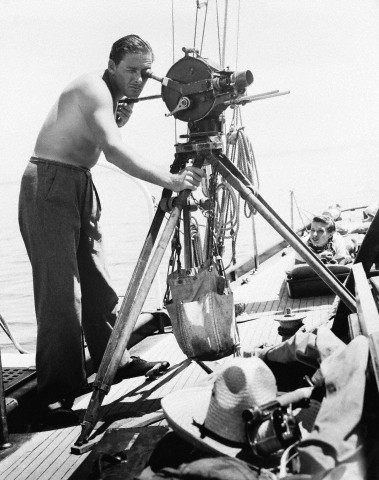 Los Angeles Evening Herald Express – Jimmy Starr – April 17, 1937
Hollywood is full of producers. The actual producers of films seen on the country's
screens are unknown to the movie fans. The producers of the films which are never
seen in theaters are world famous.
The latest Hollywood paradox involves the growing fad of 16mm motion pictures. Inspired
by the candid camera, to which many stars remain loyal, the movie star amateur has
progressed to the point where his 16mm productions show all the "production values" of
their own starring vehicles.
…
A dozen high ranking stars in Hollywood, among them Wallace Beery, Robert Montgomery,
Claudette Colbert and Errol Flynn have turned "producer," showing their films to a small,
select group of friends. Flynn, by the way, took his movie camera to Spain with him. In
addition to filming over there he also goes in for natural history dramas, his prize being
the courtship of the tarantula.
Is that the tarantula in the background, lying on the boat deck above?
— Gentleman Tim