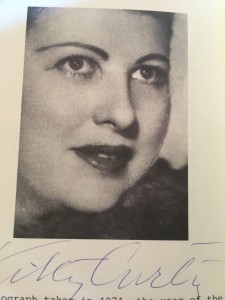 Dear fellow Flynn fans,
here is an accurate account from the viewpoint of Michael Curtiz`daughter Kitty on "Captain Blood". This German magazin article was released soon after her return to Europe and prior to the Errol Flynn legacy.
THE FIELD COMMANDER OF FILM
A journalist called my father Michael that way and it stuck- also acknowledged by Eisenstein when in Hollywood- because there is nobody like him when it comes to impressive mass scenes. Before I left America this fall, I saw him working on "Captain Blood", for the first time ever that close up since many scenes were filmed near to our house at Laguna Beach. The film that cost more than a million Dollars, was carefully rehearsed. Once the characters were set, the casting began with legions vying for each role. My father watched the filmed recordings for hours before deciding on a first selection. Then the actors would be put in costume and make-up in order to make the final cut. He favours the physiognomy and the human aspect, only later the acting skills. Once he has assembled his army, he is dead sure that there will be no unpleasant surprises.
My father who works in his profession for over 20 years and has discovered in his own unique way many talents like Lily Damita, Ivan Petrovich, Michael Varkony in Europe and Bette Davis, Kay Francis and Lionell Atwell in the United States. He demands a natural demeanor, since he is a very normal person hating nothing more than arrogant airs and showing off. Within the luxurious Hollywood way of life he is living an almost spartan lifestyle. His day starts with an icecold shower every morning. His only passions are playing polo and golf at the Riviera Country Club. He has a sharp eye for the true caracter even when it comes to actor`s folk. He never would give a role to somebody he is friendly with, he just hates nepotism.
His preference for easy and laid back types led to the engagement of Errol Flynn, who only has little acting experience from the London stage. He has led an adventurous life as pearl diver, gold digger and sailor, then as a boxing professional. He originally came to Hollywood to set up a gym there! Then he got aquainted to Lily Damita, who is Mrs . Flynn since 6 months, and through her he met my father. After a small deliberation the role, who had already been given to Robert Donat, went to Flynn.
The success of "Captain Blood" in America, England and Paris, shows that once again the field commander has made the right decision.
Katharina Kertesz
The granddaughter of Michael Curtiz, Ilona Ryder, provided me with this time capsule. Infinite more information on the Hungarian Napoleon will come our way once "Here`s looking at you, kids. The filmes, lives and loves of Michael Curtiz" is published. Can`t wait, Ilona!
Enjoy,
— shangheinz