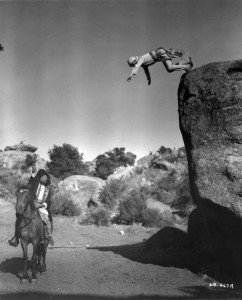 Dear fellow Flynn fans,
picking up Steadyman Tim`s thread: www.theerrolflynnblog.com…
I want to wave it into a (safety) net citing all death defying daredevils that stood in for Flynn.
Let`s beginn with Jack Ingram, who broke his arm, his wrist, and several ribs making this spectacular leap doubling for Errol Flynn in "The Charge of the Light Brigade".
Luckily he didn`t hurt his head, and so after several weeks of thinking in hospital, he decided to switch to acting in B- Western movies.
Enjoy,
— shangheinz