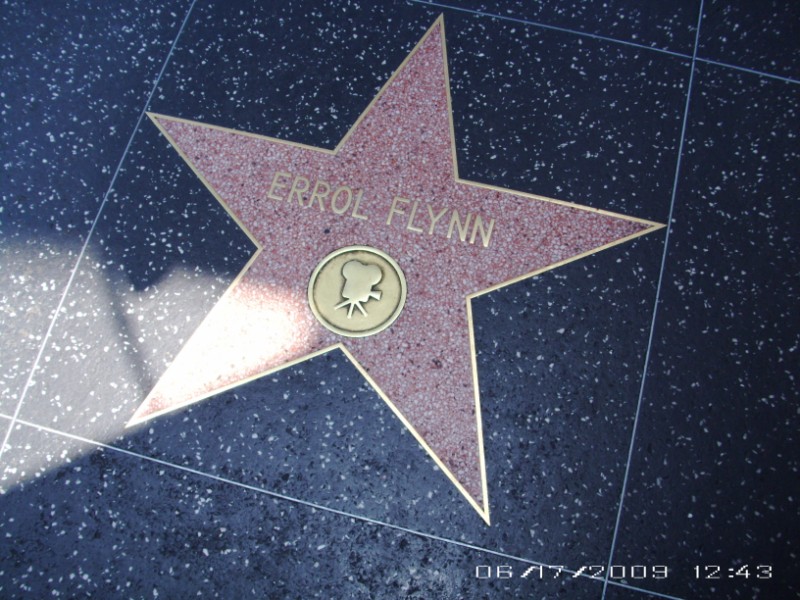 Three days before Errol Flynn's 100th Birthday a ray of light shines brightly on his star in Hollywood… today, his star sits just a few feet from a popular eatery on Hollywood Blvd – and not too far from Grauman's Chinese Theatre.
The first star in the Hollywood Walk of fame was placed for Joanne Woodward on February 9, 1960 and to date there are over 2,000 stars representing stars who have made significant contributions to film, radio, television and the recording industry. Stars near Flynn's include Robert Vaughn and Leonard Nimoy just across the street…
While Steve and Genene Randall kicked off Errol's Centenary Celebrations with guests Rory Flynn and her son Sean in Hobart, Tasmania – Jack & Louise Marino's 100th Birthday Bash for Errol Flynn at a gathering of The Mulholland Drive Boys, with guests Ron Fisher (husband of Beverly Aadland), and his daughter, Aadlanda, actor William Smith (Forgotten Heroes, directed by Jack), and his wife Joanne and Paul Picerni (who played Detective Steven Ranier in Mara Maru with Flynn), was held in Burbank, California.
Jack says he owes his lovely wife Louise all the credit for opening her home to so many people and working so hard to make the evening a huge success. She was the perfect hostess… and everyone enjoyed her warm smile and many thoughtful kindnesses during the event…
Special Guest was Trudy McVicker who knew Earl Conrad and Tony Thomas well, among other Flynn writers and is a true "Keeper of the Flame".
On hand was Flynn biographer Tom McNulty (Errol Flynn, The Life & Career), and his wife Jan, Musician and Artist Robert Florczak and his wife, Annette, Actor and Photographer Dick Wieand, Actor, Playwright and Author Louis Kraft, Karl Holmberg of the Yahoo chat group The Zaca, Steve Latshaw, Polly Kranjcich, Kent Hagen, Donny Sarian, Greg Maradei, Karen Figilis owner of Flynn's Appian Way home and many others… including one very lucky fellow named Carl Zetterstrom who journeyed all the way from Sweden to be at Errol's gravesite on June 20, and ended up being invited to a very special party!
Details of the party in Burbank and Special Events in Hobart will be forthcoming along with a gallery of photos! Stay tuned…
— David DeWitt