Stpehen Youngkin sent this to me… fascinating, as SPOCK might say! Stephen writes:
Amongst the many people I interviewed for my biography of Peter Lorre was cinematographer Oswald "Os" Morris, whose screen credits include: Beat the Devil; Heaven Knows, Mr. Allison; Lolita; The Spy Who Came in from the Cold; The Taming of the Shrew; The Man Who Would Be King; Equus, etc. Os was an interviewer's dream. He was affable, unassuming, hospitable and rolled out anecdotes with a storyteller's gift for narrative and a historian's eye for accuracy. In other words, I just sat back and listened.
Sensing my interest in his colorful tales about John Huston (they worked on eight films together), he said that he one day hoped to include them in an autobiography. That was 1988. Having recently seen Os on a documentary about Huston, I thought to look and see if he ever did pen that book. Long story short, it came out last year:
Huston, We Have A Problem: A Kaleidoscope of Filmmaking Memories (Scarecrow Press, 2006).
One of the films Morris shot was The Roots of Heaven with Errol Flynn, who, said Morris, had trouble remembering his dialogue, sweated and drank heavily. Nothing new there. However, what did catch my attention was mention of a Flynn film that was new to me (and may be to other members):
"My last film [as clapper boy] at Elstree was the Karl Grune-directed Abdul the Damned [1935], hokum about an operetta star (Adrienne Ames) assailed by a villainous Turkish sultan (Fritz Kortner). In the cast as a palace guard was a handsome lad called Errol Flynn. He was immediately talent spotted. Irving Asher, head of production at Warner Bros. studios at Teddington, Middlesex, tested him, the result was sent to Burbank, and Errol was given a six-month contract." p. 8.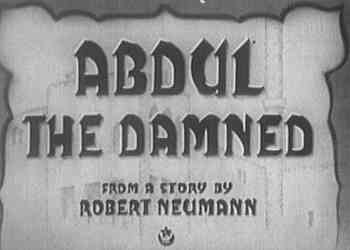 Pictures curtesy of Karl Holmberg
— David DeWitt