Recently collector Ben Johnson of Ohio, USA claimed possibly the rarest of copies of Showdown signed by Errol to his parents! Ben added it to a fine looking display he's created and allows us to show it on the EFB!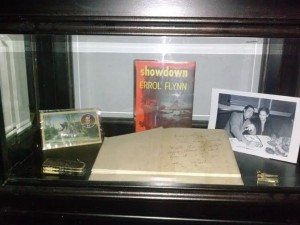 Dennis Mullen, editor and ghostwriter and personal tour guide to Flynn haunts Port Antonio, Jamaica, and Havana, Cuba, arranged the sale and told me he is sending an Errol Flynn marina brochure and a vial of sand from Navy Island to Ben for his display case, as well. (You can check out Dennis's Flynn ebay items by searching for seller: HavannaArchives.)
The dedication reads:
Thanks, Ben and Dennis!
— David DeWitt