LOOK Magazine – April 12, 1938
The Adventures of Robin Hood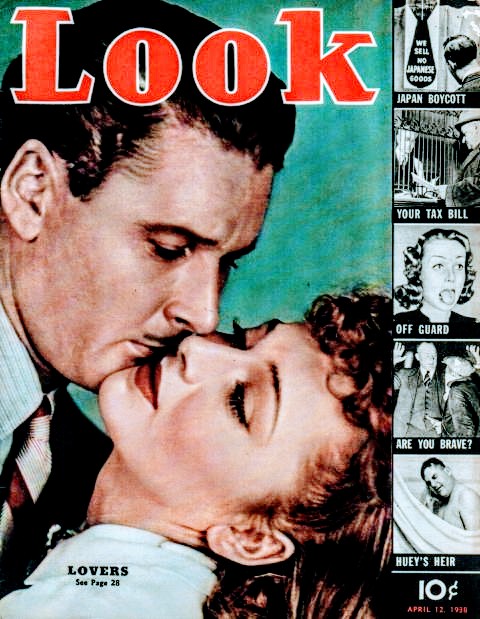 OTHER CONTENTS
– The Rockefeller Women, wives of the John D. Rockefeller clan, the former Blanchette Hooker, Mary Clark and Mary French.
– Blind persons learn how to row at European school for the blind.
– Confidentially column includes Francisca Gall, Yehudi Menuhin, Barbara Huckins, May McAvoy, Will H. Hays, Lora Marlo, Sidney Skolsky, Anthony Averill, Mary Margaret McBride, Henry Morgenthau, Jr., David and Joseph Maddox and two unrelated men named Joseph John Toth.
– Auto driver Wilbur Shaw in an ad for Camel cigarettes.
– Photographic manipulations proved pictures do tell lies, samples by photographers Henry Clay Gipson, Bill Ries, and A.J. Sockoloskie.
– A photo study of who collects taxes and where they go in Peoria, Illinois; carpenter Homer M. Lynn and family buy shoes from Harry Frankel, groceries from John Frasco, discuss taxes with city assessor Dan Goggin. Other businesses include Hiram Walker, Rock Island railroad, Caterpillar Tractor, young Russell Deal at the Pea Ridge School, Marjorie Frye at the Proctor Recreation Center, Tildon Cecil at the relief office.
– A magician saws a woman in half using Horace Goldin's trick.
– Boycott against Japan.
– Dorothy Wender Heizer of Essex Falls, New Jersey creates the world's most expensive dolls.
– Passion play in Oberammergau, Germany.
– Is Paulette Goddard your choice for Scarlett O'Hara in "Gone with the Wind"?
– U.S. Navy builds biggest aircraft carrier, the Yorktown, illustration by Logan Reavis.
– The table manners of Mable Tanners.
– The camera trains diver Herta Schieche of Berlin.
– Hollywood off guard, Carole Lombard, Ginger Rogers, Douglas Fairbanks, Jr., Marlene Dietrich, Gary Cooper.
– Climbing the pyramid of Gizeh is a workout.
– Movie tricks, including Henry Fonda.
– The private life of Louisiana's governor Richard Leche.
– Flash Gordon returns to Earth.
– Bill Klem, the umpire who never made a mistake.
-Girl archers at Long Branch Junior College in California.
– Ruth Law, first woman stunt flyer.
– 60-year-old Grace Logan of Los Angeles is skilled at jujitsu.
— Tim