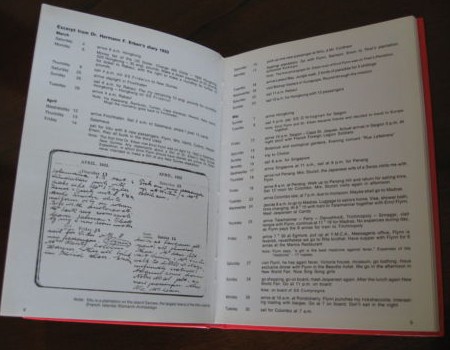 Offering for sale from my extensive Hollywood memorabilia collection
A great opportunity to acquire this hardbound intriguing book, edited by Mr Josef Fegerl who wonderfully dedicated himself publishing parts of Dr Hermann F. Erben's incredible diary. This book contains over 160 unpublished photos. Dr Erben was a close friend and travel companion of Errol Flynn, one of the most outrageous and talented Hollywood screen legends.
The title of this brilliant documentation is well worded: "A Friendship of Two Adventurers".
After meeting on April
14th, 1933, Flynn and Erben travelled more or less half way across the
globe on a tremendous journey that commenced in New Guinea and finished
in Marseille. Probably great learning years for Flynn as a young man.
Errol made his way to London and eventualy became a stage actor until
Warner discovered him for the big screen in Hollywood. These two men
remained in contact since and met later on several occasions. What a
stroke of luck Erben and Flynn met in 1933 for us now to enjoy part of
their lives.
Without any doubt, this book is in MINT condition and has been very well looked after. This fine copy is a fantastic addition for any serious 'Hollywood memorabilia' or Errol Flynn collector. This book contains 96 pages. It shows extraordinary photos of both characters between the period of 1933 to 1940 never seen before.
Within the circles of Errol Flynn loyal fans and ardent admirers this book needs no introduction. Not often this hard-to-find book is offered for sale. A good investment.
(Personally living in Spain myself, I tried to find out the possible travels of Flynn during the Spanish Civil War time, but only when I required this book certain locations became clear, so personally it was of great help to me.)
I will be happy to answer any questions you might have.
The book will be sent by Registered Mail / Signed for Delivery within 1 working day after receipt of cleared PAYPAL payment. Shipping to USA and Canada is USD 18.50. Within Europe, it is USD 14.00 . All other countries, please email for a quote of postage costs. If you require insurance, please request a quote as well.
Thank you for your interest.
— David DeWitt