Archive for the 'The Last Years' Category
Remember the photographs of Errol and actress Romy Schneider, where we tried to find out when and where they were taken? I realised then that apparently, not much is known about Errol's visits to Germany, so I decided to do some research and here's what I came up with. Hope that this is not old news. The article is based on the German "FilmJournal" from May 2nd, 1960. I did not want to translate Errol's quotations literally (this would have been a back-translation because everything had already been translated into German) and I apologise for any mistakes.
Errol Flynn arrives for the Berlinale film festival in Germany on June 20th, 1957 at Tempelhof Airport. A band is playing for his 48th birthday, and he himself conducts it for a moment before borrowing a camera from a photographer to shoot some photos himself.
About 500 fans are there to cheer and to escort him and Patrice to the Hotel Kempinski.<?xml:namespace prefix = o ns = "urn:schemas-microsoft-com:office:office" />
This is where Errol's mood changes abruptly. Seeing his rooms 310 and 311, he starts shouting that not even at school did he have to stay in such a small room – that's outrageous! He phones the airport to get back to Paris the same evening. When Dr. Bauer, the Berlinale manager, tries to calm him and to tell him that he hardly has a chance to get any tickets, he answers that he will rent an airplane. If he cannot get one here, he will order one from Paris! And if this is not possible either, he will rent a car and drive through the "zone", i.e. the GDR.
For Dr. Bauer, these are the most critical minutes in the seven years he has been the manager of the famous film festival. He tries to get other rooms for his star – to no avail, for the head receptionist declares that he is not interested in the fact that Mr. Flynn is a guest of the federal government. The hotel's permanent guests are more important; and besides, all apartments are occupied.
Now Dr. Bauer tries the Hotel Gehrhus, which is known for its obligingness towards artists. Mr. Gehrhus decides at once: since the Grand Apartments (with three large rooms, two balconies, a bathroom with a telephone) are already occupied by an industrialist, Mr. Gehrhus moves out of his own flat and offers it to the industrialist. So finally, Errol can reside in a more befitting place…
24 hours later, all his anger is forgotten.
He says that he likes it very much in Berlin and that he is about to convince his secretary to let him stay five instead of the scheduled three days. He can be seen dancing with Patrice at the Waldbuehne or flirting with Izumi Yukimura…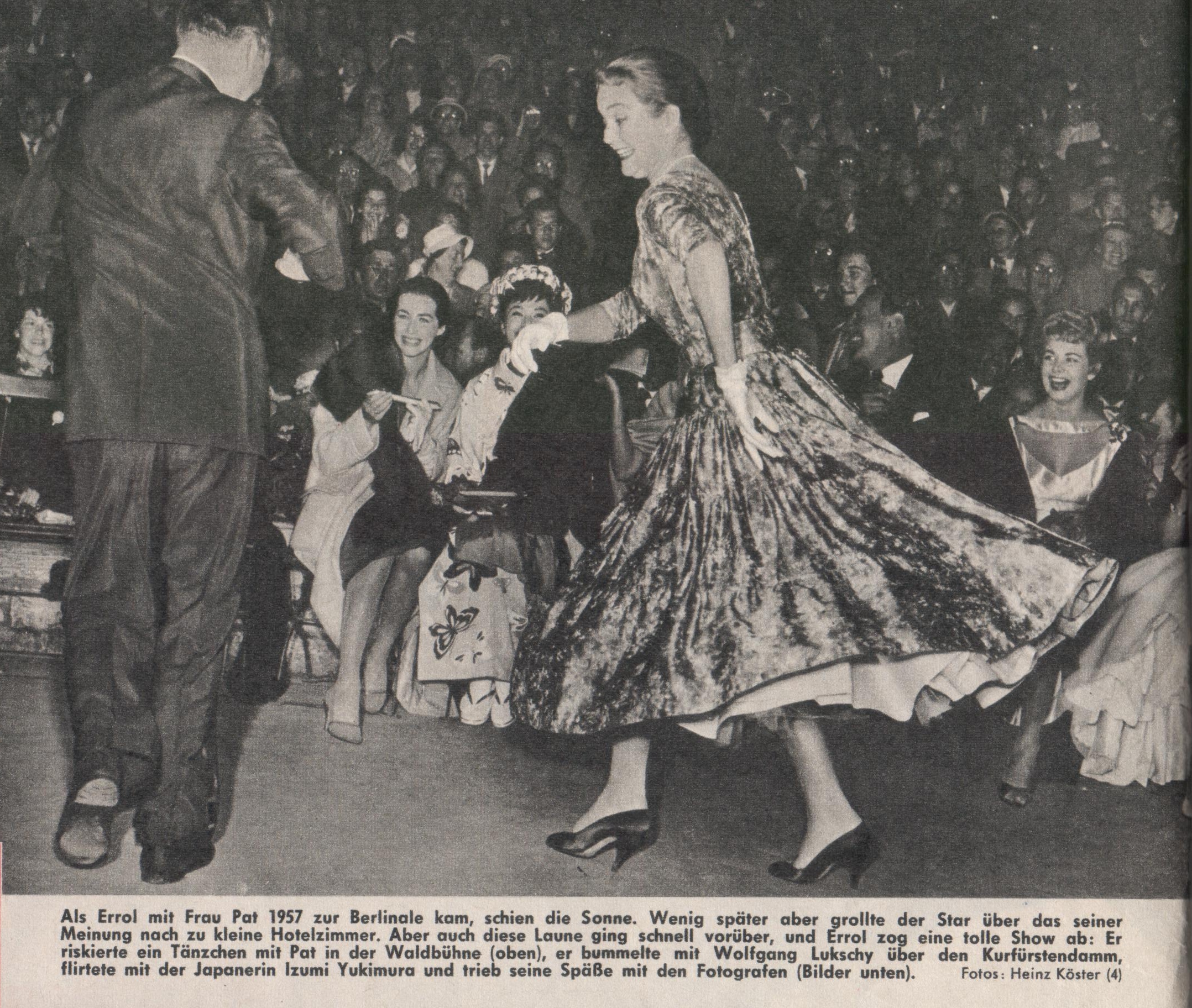 — Inga