At the Northern California Pirate Festival
This weekend in Vallejo
Ahoy, ye salty sea dogs! Keep a weather eye on the horizon – especially toward the Carquinez Strait. Pirates are coming to invade the Vallejo Waterfront Park Father's Day weekend, June 16 and 17.
And those sea rogues and privateers have been doing just that for a dozen years, giving fathers and families the chance to run away from home and be pirates for two days.
The event has plenty of swashbuckling for the most ardent of Errol Flynn fans, from theater groups such as the Court of the Pirate Lords and Brotherhood of Oceanic Mercenaries – B.O.O.M. for short.
And boom they'll go as they fire up the cannons and take aim on a new invading ship, The Sea Eagle. The ship will be returning fire during daily ship to shore battles. B.O.O.M keeps bringing more cannons and fire power with every appearance, but also have educational displays with cast members available to explain the various historic items.
The Sea Eagle is a privateer-model sailing vessel with boldly colored sails, one of which bears a grinning skull and crossed swords. Its shallower draft means it will be able to come closer to shore for more dramatic views and sounds, said Anna Benincasa-Morales, one of festival's organizers and performers. "You can hear the crowd gasp when the ship comes in close."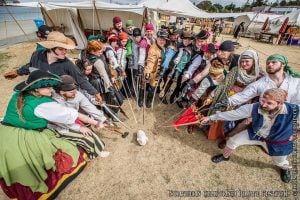 Other sounds at the festival will be pleasant, such as Skip Henderson and the Starboard Watch, singing traditional maritime songs, the Seadogs and their sea shanties, the Penny Opry duo and their blend of maritime and Tin Pan Alley music, the Brass Farthing and their British and American folk and tavern songs, and the pirate, Celtic and rock band, O'Craven.
The "ladies" of the House of the Rising Sun also provide entertaining songs, but they're also likely to introduce festival goers to games of chance or entertain them with improvisation presentations or tell them stories about historical New Orleans.
— Gentleman Tim